Because, you know, I have no self-control when it comes to books.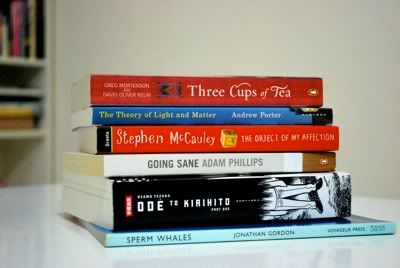 Kinokuniya bargain buy, Day 2.
6 books, RM53.
Actually the Three Cups of Tea that I bought was the US version, but my mother borrowed it, so I took the pic with the UK version instead.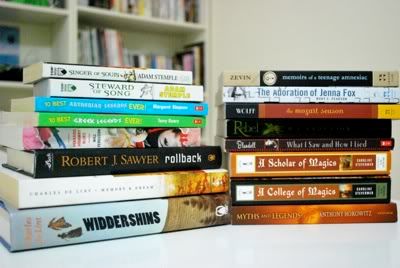 Big Bad Wolf Sale:

16 books, RM128.
Two books I bought for my brother's birthday are not in the pic.
Got them for RM30 (RM15 each).
And 2 magazines, summer issues of VenusZine and BUST (RM1 and RM5).
Which brings my grand total to RM164.

Overall thoughts on the sales:

For the Kinokuniya bargain buy, as always, it's a hit or miss.
When you find something good, though, it's usually very good.
Like the Osamu Tezuka.
And Three Cups of Tea.
And Bakuman.
The list goes on and on.
I even spotted Volume 5 of the Buffy Season Eight comics, but I already have that.
(Bought it at Singapore Kinokuniya's bargain buy earlier this year.)
So I left it behind for someone who might really want it.
The non-fiction, which usually has a great selection, is just so-so this time.
But! I found Nippon Pop, which has Shonen Knife and Buffalo Daughter and Spitz and Cornelius in it (not to mention a page on the Johnny's senpais) and is one of the best non-fiction finds I've made in a bargain/warehouse sale.

The Big Bad Wolf Warehouse Sale, hmm.
I can't say it's bad because I did end up buying a lot.
The non-fiction selection really didn't grab me the way it did last year, though.
Which is disappointing because these sales are the only times I really get to buy non-fiction, which are more expensive.
But I got a lot of really good YA, so I can't complain.
I passed up on a lot of titles that I wanted, but weren't in the "right" format.
Because I always end up replacing books with the formats/versions I really want anyway, I figure I shouldn't waste my money if it's not the version I want.
Like Ursula Le Guin's Powers and Lavinia, which were in C-format at the sale.
I wanted B-formats for those.
And Cecil Castellucci's Boy Proof, which I really wanted, but in hardback, and they only had it in B-format.
I was mostly glad for the Charles de Lint and the College of Magics books.
For the former, I'm pretty sure they were books I pulled out for our 036 returns, haha.
It's like, 「ああ、久しぶり!」

This may not be the best time to mention all the books being reserved at my desk right now, including:
The Lost Hero by Rick Riordan
Dash & Lily's Book of Dares by David Levithan & Rachel Cohn
Shipbreaker by Paolo Bacigalupi
Zombies vs. Unicorns edited by Holly Black & Justine Larbalestier
Mockingjay by Suzanne Collins
Seven Pleasures: Essays on Ordinary Happiness by Willard Spiegelman
A Guide to Folktales in Fragile Dialects by Catherynne M. Valente
Kojiki by Basil Hall Chamberlain

I always overspend on books during this time of the year.